---
Task Management

HIBster users are given the ability to create and organize duties in the task manager — a "To-Do" list, if you will. Users can create and add their own tasks to the task manager and set due dates and time limits.
Example: If the principal must inform parents or guardians of all students involved in alleged incidents within 2 days of the incident submission, the HIBster user might enter the description of this task in the task manager and indicate that it must be done within 2 days.
Users will be alerted by e-mail whenever a deadline is approaching so that no task is ever missed. These alerts are also sent to your Notifications Center in HIBster for you to refer to. Whenever a task is completed, a user marks it as Completed in the Incident Manager (the Notifications tab). This ensures that no task is accidentally repeated.
Tasks may be customized for each school district according to their state's anti-bullying legislation.
---
Users & Work Flow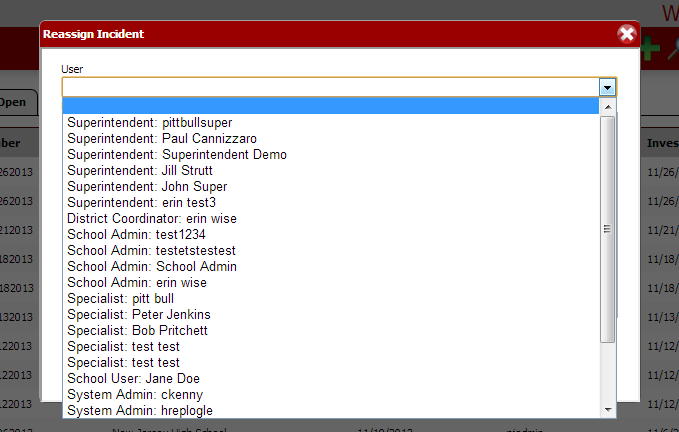 There are several different types of user roles in the HIBster system:
System Admins – May perform all functions for the district, including report generation and modification, incident review, and user administration.
District Coordinators – Can manage incidents and reports for all schools in the district, but cannot administrate other users.
HIB Specialists – Can manage incidents and reports for their school only. They cannot close incidents.
School Admins – Can manage incidents and reports for their school only. They can close incidents.
School Users – Can manage incidents and reports for their school only. They cannot close incidents.
Certain users are able to perform certain tasks in the system while others cannot. For example, the Superintendent is the only user who can give final approval on an incident and send it to the State.
The software is setup so that users can pass on the incident to the next user according to an efficient workflow. This workflow can vary among school districts. Maybe the Anti-Bullying Specialist will review the incident, and then "promote" it on to a School Admin to specify discipline. The School Admin might see something missing from the incident and "demote" it back to the specialist. E-mail notifications are sent to the appropriate user whenever he/she is assigned a task.
HIBster also allows users to assign incidents to specific users; just select the individual's username from a list. There is also an area available to write notes for the next user.